WordPress has become one of the most popular content management systems (CMS) for website development in recent years. This open-source platform offers a plethora of features and benefits, making it a top choice for businesses of all sizes. As a web development agency, we highly recommend WordPress for website design and development, and here are the reasons why:
Customizable design
WordPress provides a wide range of templates and themes that a developer can customize to create a unique website design that aligns with your brand. With a range of customization options, businesses can create a website that reflects their brand's personality, making it more memorable to their customers.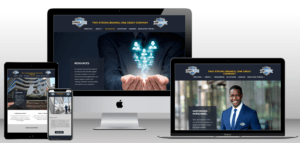 Custom WordPress template by Byte for Admiral Security
Easy content management
WordPress's user-friendly interface makes it easy for businesses to manage and update their website content without needing technical knowledge. This means businesses can quickly and easily make website changes without hiring a developer for every minor update. For those who opt to leave edits to the pros, Byte offers fast support and updates, often completed within one to two business days.
Search engine optimization (SEO)
WordPress is designed to be SEO-friendly, making it easier for businesses to optimize their website for search engines. From using SEO plugins to customizing URLs, WordPress provides a range of features that help businesses improve their website's search engine ranking.
Responsive design
With more and more people accessing the internet via mobile devices, having a responsive website design is crucial. WordPress offers responsive design themes that ensure the website looks great on all devices, whether a desktop, tablet, or smartphone.
WordPress website by Byte with responsive design for Merry Stockings
Scalability
As businesses grow and evolve, their website needs will change too. WordPress is highly scalable and can be easily adapted to meet the changing needs of businesses, whether it's adding new features, updating the design, or expanding the website's functionality.
Conclusion
In conclusion, WordPress is an excellent website design and development platform, and its benefits make it a top choice for businesses. As a web development agency, we highly recommend WordPress for building a business website that is not only visually appealing but also easy to manage, scalable, SEO-friendly, and responsive. If you're looking for a reliable web development agency to build your WordPress website, contact us today!